Jurnal Sains dan Informatika were registered number p-ISSN: 2460-173X, is a peer-reviewed journal which publishes conceptual ideas, studies and research on the theory and application of Software Engineering, Web Programming, Computer Network and Database, Mobile Computing, Image Processing, Cloud Computing, Artificial Intelegence, Data Mining, Decision Support System and Internet of Thing
JSI is published by Pusat Penelitian dan Pengabdian kepada Masyarakat Politeknik Negeri Tanah Laut and managed by Jurusan Teknik Informatika Politeknik Negeri Tanah Laut,
Abstracts and full text that have been published on the website can be read and downloaded for free.
JSI publish regularly two times a year in June and November
JSI is accredited wiith Sinta 4 and indexed with
Interested in submitting a manuscript? please register
Already have a Username/Password for JSI? go to login
Vol. 7 No. 1 (2021): Jurnal Sains dan Informatika
Jurnal Sains dan Informatika
Volume 7 Nomor 1, Juni 2021
p-ISSN 2460-173X
e-ISSN 2598-5841
Adalah jurnal resmi Jurusan Teknik Informatika, Politeknik Negeri Tanah Laut. Jurnal ini terbit 2 kali setahun, mempublikasikan hasil-hasil penelitian dalam bidang software engineering, web programming, computer network and database, mobile computing, image processing, cloud computing, artificial intelligence, data mining and decision support system.
Jurnal sains dan informatika terakreditasi Sinta-4 berdasarkan Keputusan Direktur Jenderal Penguatan Riset dan Pengembangan Kementerian Riset, Teknologi, dan Pendidikan Tinggi Republik Indonesia Nomor 23/E/KPT/2019 Tentang Peringkat Akreditasi Jurnal Ilmiah Periode IV Tahun 2019.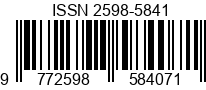 Published: 2021-06-30
View All Issues